NothingButSoftware launched in 1997 and was founded by the owners of the company SpaceBound, Inc. which has been in business since 1987 and owns a few other websites including BargainStation and PricePlunge. Due to SpaceBound's long history and relationship with manufacturers, publishers, distributors, and wholesalers, NothingButSoftware is able to offer the latest software releases at low prices. However, in contrast to the name 'NothingButSoftware', you will occasionally find daily deals on more than just software.
Nothingbutsoftware.com currently ranks #108 amongst sites offering online deals -- Mountain Gear ranks #107. In the Computers and Electronics category, NothingButSoftware ranks at #17 -- TechForLess ranks #16.
Top 3 Sites Like NothingButSoftware

SnaggStuff
Deals mainly on computers and electronic.

Bitsdujour
Offers deals on PC and Mac software.

Giveaway of the Day
Offers free licensed software daily deals.
More About NothingButSoftware
Site Snapshot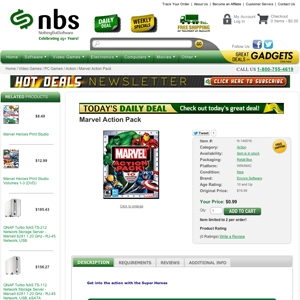 Loaction of Nothingbutsoftware.com's Daily Deal page:
www.nothingbutsoftware.com/DailyDeal