Giveaway of the Day is -- get this -- a deal a day site that offers 100% free commercially licensed software downloads. The site was launched on October 24th, 2006 and while it may sound like a download.com or something like that, it's not because the software offered on the site actually does cost money -- it's just that the software is being offered for free on the day of the giveaway. As for software compatibility, the site offers Windows and Mac software, but of course this depends on the software being offered. For the most part though, the software is usually compatible with Windows.
As for the site's layout, it looks a lot like a daily deal site which actually sells stuff. For example, the software is presented in a product listing format which has pictures, a description and even a countdown timer. In addition to this, and in attempt to wow you even more (at least in my opinion), the owners of giveawayoftheday.com have decided to offer a game giveaway as well. Pretty cool, huh? Yeah, I'd say so and I'll even go as far as repeating what Yahoo said, when I say that Giveaway of the Day offers prices which are unbeatable.
Giveawayoftheday.com currently ranks #22 amongst sites offering online deals -- Musicians Friend ranks #21. In the Computers and Electronics category, Giveaway of the Day ranks at #4 -- TigerDirect ranks #3. Amongst all deal a day sites, Giveaway of the Day ranks #2 -- Woot ranks #1.
Top 2 Sites Like Giveaway of the Day

Bitsdujour
Offers deals on PC and Mac software.

VolumeVote
Volumevote.com gives away a free MP3 from a different band on a daily...
More About Giveaway of the Day
Site Snapshot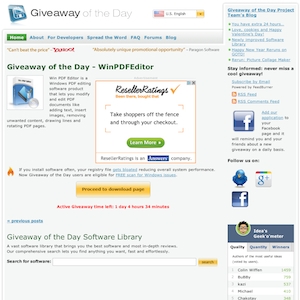 Loaction of Giveawayoftheday.com's Daily Deal page:
www.giveawayoftheday.com