BitsDuJour, was founded in March 2006 by Ellen Craw and Jennifer Clarke. When the site first debuted, it offered one PC software deal a day, but today offers multiple daily deals on PC and Mac software. BitsDuJour started offering Mac software in December 2013 when it promoted a cross-platform bundle of ten applications. In addition to this, BitsDuJour offers free software in addition to the paid software that they advertise -- very similar to the way Giveaway of the Day offers software.
So how does Bitsdujour work exactly? Well, Bitsdujour does not process the sales. As Bitsdujour explains it:
"we just arrange the discounts and provide the links. You buy the program right from its vendor. Everything we feature is a legal, current version of the product."
Bitsdujour.com currently ranks #43 amongst sites offering online deals -- Liquidation Channel ranks #42. In the Computers and Electronics category, Bitsdujour ranks at #9 -- Sony Creative Software ranks #8. Amongst all deal a day sites, Bitsdujour ranks #6 -- TeeFury ranks #5.
Top 3 Sites Like Bitsdujour

Giveaway of the Day
Offers free licensed software daily deals.

NothingButSoftware
Mainly focuses on software, but don't let the name fool you. Electronics,...

MacZot
Offers deals on Mac computer software.
More About Bitsdujour
Site Snapshot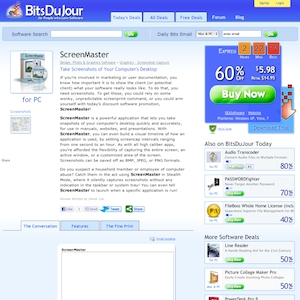 Loaction of Bitsdujour.com's Daily Bits page:
www.bitsdujour.com