BargainStation was officially launched in 2007 by the founders of SpaceBound, Inc., which are also the owners of NothingButSoftware and PricePlunge. BargainStation manages to offer deep-discounts on overstock products because of the closeout merchandise that they are able to acquire. The BargainStation daily deal offers one of these items at even greater discounts for 1 day only (unless the item sells out early).
So what does BargainStation mean when they say closeouts? Well as BargainStation puts it: "products no longer in retail outlets - stores who had to make room for new releases or cancelled their orders, overproduction of products and publishers and/or manufacturers who have downsized."
Bargainstation.com currently ranks #194 amongst sites offering online deals -- Liori Diamonds ranks #193. In the General Merchandise category, BargainStation ranks at #56 -- OnSale ranks #55.
Top 3 Sites Like BargainStation

TigerDirect
Offers specials on computers, electronics, audio, video, software and more.
Best Buy
Offers specials on a wide variety of products including but not limited to...

Newegg
Offers daily deals mainly on computers and electronics. Some are offered by...
More About BargainStation
Site Snapshot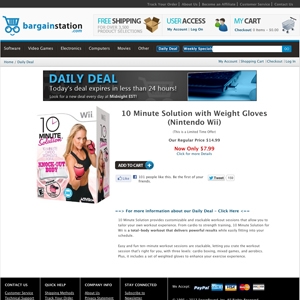 Loaction of Bargainstation.com's Today's Daily Deal page:
www.bargainstation.com/DailyDeal