Based out of Colorado Springs, CO and founded in 2001, Techforless.com sells new, open box and refurbished computers & peripherals, laptops, electronics, software, TVs, MP3 Players & more. As for prices, well they are pretty low. Of course you might be wonder how they do it. Well according to TechForLess, they are not your typical store since they only stock items that can sell at deep discounts which usually consist of overstock or liquidation items.
Techforless.com currently ranks #101 amongst sites offering online deals -- That Daily Deal ranks #100. In the Computers and Electronics category, TechForLess ranks at #16 -- Ecost ranks #15.
Top 3 Sites Like TechForLess

Ecost
Offers specials on computers and electronics; Apple products, PCs, laptops,...

TigerDirect
Offers specials on computers, electronics, audio, video, software and more.

Newegg
Offers daily deals mainly on computers and electronics. Some are offered by...
More About TechForLess
Site Snapshot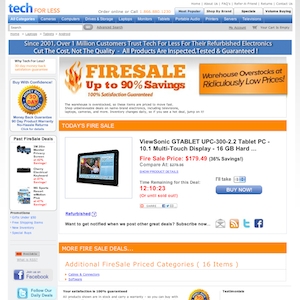 Loaction of Techforless.com's FireSale page:
www.techforless.com/cgi-bin/tech4less/hot_deal.html