Located in Memphis, TN and launched in 2008, SnaggStuff started out a deal a day site and eventually grew into a store that carries a wide range of software, computers, computer peripherals and electronics.
Snaggstuff.com currently ranks #141 amongst sites offering online deals -- MMAHQ ranks #140. In the Computers and Electronics category, SnaggStuff ranks at #19 -- ProjectorPeople ranks #18.
Top 3 Sites Like SnaggStuff

NothingButSoftware
Mainly focuses on software, but don't let the name fool you. Electronics,...

TigerDirect
Offers specials on computers, electronics, audio, video, software and more.

Newegg
Offers daily deals mainly on computers and electronics. Some are offered by...
More About SnaggStuff
Site Snapshot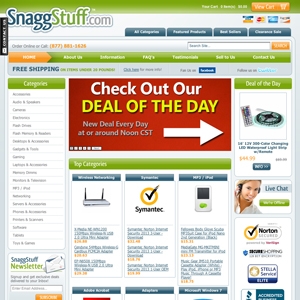 Loaction of Snaggstuff.com's Deal of the Day page:
Link listed on the homepage (on snaggstuff.com)