DailySteals has always been known to make getting the best bargains from the comfort of your home quick and easy. 'Home DailySteals' is no different. Well, with the exception that now you can actually save up to 90% off retail on things for your home. How cool is that?
Home.dailysteals.com currently ranks #34 amongst sites offering online deals -- Muscle and Strength ranks #33. In the Home and Garden category, Home DailySteals ranks at #3 -- Home.Woot ranks #2. Amongst all deal a day sites, Home DailySteals ranks #4 -- Mighty Deals ranks #3.
Top 3 Sites Like Home DailySteals

Home.Woot
Offers things for the home.

Family.laalo
Offers daily deals on products for the family.

Ehappyhome
Offers products for the home; dinnerware, flatware, cookware and more.
More About Home DailySteals
Site Snapshot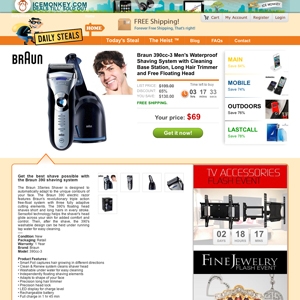 Loaction of Home.dailysteals.com's A New Deal Every Day! page:
home.dailysteals.com