DailySteals was founded in 2009 by Matt Wiener and is amongst the most popular deal a day sites on the web today; I'd without a doubt list DailySteals, 1 Sale A Day and Woot as the top 3 (but not necessarily in that order).
As for the deals, you never really know what will go on sale since the main site doesn't focus on a specific category. For this reason, you can expect to find deals or should I say steals on household items, computers & electronics, apparel and more.
For more deals from DailySteals, also see Last Call DailySteals, Home DailySteals, Mobile DailySteals and Outdoors DailySteals.
Dailysteals.com currently ranks #34 amongst sites offering online deals -- Muscle and Strength ranks #33. In the General Merchandise category, DailySteals ranks at #21 -- Tanga ranks #20. Amongst all deal a day sites, DailySteals ranks #4 -- Mighty Deals ranks #3.
Top 3 Sites Like DailySteals

Woot
Woot.com offers daily deals in a wide range of categories.

1 Sale A Day
Offers daily deals on a wide range of merchandise. Find electronics,...

Yugster
Offers daily deals in various categories -- Yugster members get first dibs...
More About DailySteals
Site Snapshot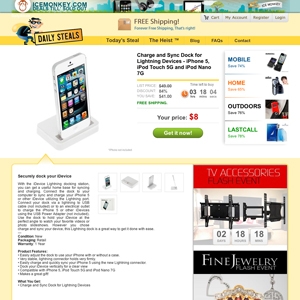 Loaction of Dailysteals.com's A New Deal Every Day! page:
www.dailysteals.com