Founded on January 1st, 2006, Muscleandstrength.com is where many people go to shop and to get information on bodybuilding and working out. So if you're looking for a place to interact with others that are into fitness, or are looking for videos, articles, reviews or a store that offers supplements, workout gear, training DVDs and more, Muscle & Strength is the place that has it all.
Muscleandstrength.com currently ranks #33 amongst sites offering online deals -- Jomashop ranks #32. In the Supplements category, Muscle and Strength ranks at #1.
Top 3 Sites Like Muscle and Strength

ProSource
Offers bodybuilding & sports supplements, weight Loss products, protein...

Tiger Fitness
Offers nutritional supplements.
Orbitnutrition
Offers bodybuilding supplements.
More About Muscle and Strength
Site Snapshot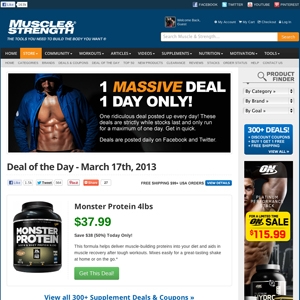 Loaction of Muscleandstrength.com's Deal Of The Day page:
www.muscleandstrength.com/store/deal.html