Outdoors DailySteals is owned and operated by DailySteals. The outdoor category went live on 2/27/13 and the name pretty much says it all; the site offers daily deals on outdoor equipment. To quote the DailySteals blog, the site offers everything from "Zumba capri pants to LED lights for your backyard". As with the rest of the sites run by DailySteals, you can expect to find highly discounted deals steals every day.
Outdoors.dailysteals.com currently ranks #34 amongst sites offering online deals -- Muscle and Strength ranks #33. In the Sporting Goods category, Outdoors DailySteals ranks at #3 -- REI Outlet ranks #2. Amongst all deal a day sites, Outdoors DailySteals ranks #4 -- Mighty Deals ranks #3.
Top 3 Sites Like Outdoors DailySteals

Outdoor Daily
Offers outdoor recreation products.

Sport.Woot
Offers daily deals on sports equipment.

Usoutdoor
Offers sporting goods; specializes in men's and women's sportswear and...
More About Outdoors DailySteals
Site Snapshot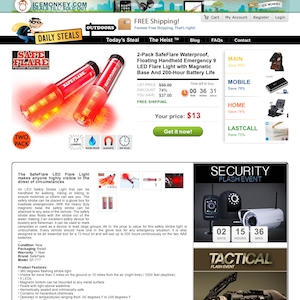 Loaction of Outdoors.dailysteals.com's One Deal A Day page:
outdoors.dailysteals.com