Like the deals that are offered on DailySteals? Well, then you need to check out Last Call DailySteals because this is where limited quantity items are offered at even bigger discounts. This part of the site went live on 3/16/12 and in a press release, Matt Wiener (CEO of DailySteals) explains "we wanted a way to spotlight our extra-limited discounts, which are subject to even bigger markdowns than our regular inventory. Our new Last Call page highlights those deals". So if you are a fan of DailySteals, then Last Call is something I'm sure you'd love.
Lastcall.dailysteals.com currently ranks #34 amongst sites offering online deals -- Muscle and Strength ranks #33. In the General Merchandise category, Last Call DailySteals ranks at #21 -- Tanga ranks #20. Amongst all deal a day sites, Last Call DailySteals ranks #4 -- Mighty Deals ranks #3.
Top 3 Sites Like Last Call DailySteals

Sellout.Woot
Offers daily deals in a wide range of categories -- this is where Woot...

Closeout.thingfling
Offers closeout products in various categories.

CloseoutMania
Offers specials on jewelry.
More About Last Call DailySteals
Site Snapshot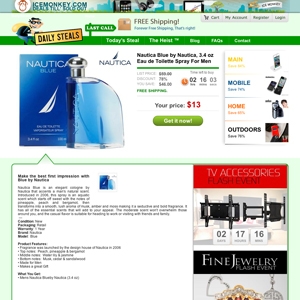 Loaction of Lastcall.dailysteals.com's Today's Steal page:
lastcall.dailysteals.com