Looking to get a good bargain on mobile items? Well DailySteals has some of the best deals right here on accessories for PCs, tablets, cell phones; mobile devices and more. As with other deals from DailySteals, prices are always marked at 80% to 90% off retail.
Mobile.dailysteals.com currently ranks #34 amongst sites offering online deals -- Muscle and Strength ranks #33. In the Computers and Electronics category, Mobile DailySteals ranks at #7 -- MacUpdate ranks #6. Amongst all deal a day sites, Mobile DailySteals ranks #4 -- Mighty Deals ranks #3.
Top 3 Sites Like Mobile DailySteals

Mobile.laalo
Offers daily deals on mobile devices and accessories.

1 Sale A Day
Offers daily deals on a wide range of merchandise. Find electronics,...

HandHeldItems
Daily deals on accessories for handheld devices; Find accessories For iPad,...
More About Mobile DailySteals
Site Snapshot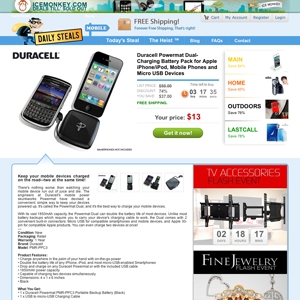 Loaction of Mobile.dailysteals.com's A New Deal Every Day! page:
mobile.dailysteals.com