Founded in 2010 and located in New York City, Ehappyhome.com offers tools and gadgets, a wide variety of bakeware and Cookware products, glassware, crystal, flatware, tabletop and cutlery from brands like Aladdin, Calvin Klein, Farberware, Lifetime Brands, Mikasa, Vinturi and more.
Top 2 Sites Like Ehappyhome

Housewares Deals
Offers housewares. Find brands like Farberwar, KitchenAid, Cuisinart,...

Home.Woot
Offers things for the home.
More About Ehappyhome
Site Snapshot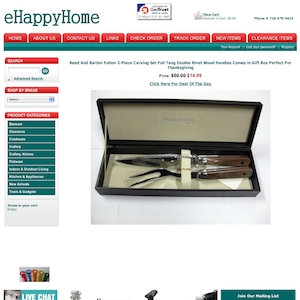 Loaction of Ehappyhome.info's Deal Of The Day page:
www.ehappyhome.com/servlet/the-template/dod/Page