Looking for a deal that is sure to thrill the whole family? Well Laalo believes that "everyone ought to experience the thrill of finding an amazing deal". Well with new deals posted every 24 hours and discounts of up to 90% off retail, we are sure that Laalo family will have something for everyone, and in addition to these deals, Laalo offers other deals over at: Laalo, Mobile.laalo and Geekout.laalo.
Family.laalo.com currently ranks #217 amongst sites offering online deals -- TigZoo ranks #216. In the Home and Garden category, Family.laalo ranks at #15 -- Tool Authority ranks #14. Amongst all deal a day sites, Family.laalo ranks #61 -- TigZoo ranks #60.
Top 3 Sites Like Family.laalo

Home.Woot
Offers things for the home.

Ehappyhome
Offers products for the home; dinnerware, flatware, cookware and more.

ATGStores
Find items for the home; furniture, lighting, faucets, knobs, rugs and...
More About Family.laalo
Site Snapshot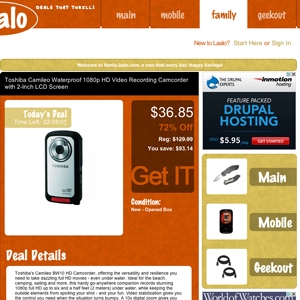 Loaction of Family.laalo.com's Daily Deal page:
family.laalo.com