On October 24, 2011 Woot launched their site 'Home.Woot'; a site that offers a highly discounted deal on household goods once a day. So if you are looking for a way to turn your house into a happy home for less, this is the place to check out!
Home.woot.com currently ranks #12 amongst sites offering online deals -- DX Offers ranks #11. In the Home and Garden category, Home.Woot ranks at #2 -- Home Depot ranks #1. Home.Woot is considered the most popular deal a day site, ranking in at #1. As for the 2nd most popular site, it's Giveaway of the Day.
Top 3 Sites Like Home.Woot

Family.laalo
Offers daily deals on products for the family.

Tooliday
Offers tools.

ATGStores
Find items for the home; furniture, lighting, faucets, knobs, rugs and...
More About Home.Woot
Site Snapshot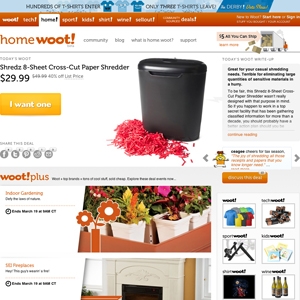 Loaction of Home.woot.com's One Day, One Deal page:
home.woot.com