Tooliday is owned and operated by Tool King which is in business since 1978; the year when Tool King opened their first retail store in Denver, Colorado. As many local retails, Took King decided to reach more customers via the internet. As a result, ToolKing.com launched in 2001 and Tooliday.com was launched in 2008. Of course, as the names of both sites suggest, both Tooliday and Tool King specialize in selling tools, but Tooliday is a bit different since it only sells one tool a day. So if you are looking for your daily fix on tools, Tooliday is a great place for you.
Tooliday.com currently ranks #249 amongst sites offering online deals -- Snazzy Buys ranks #248. In the Home and Garden category, Tooliday ranks at #17 -- Giftsprings ranks #16. Amongst all deal a day sites, Tooliday ranks #82 -- Crop Chocolate ranks #81.
Top 2 Sites Like Tooliday

Tools.Woot
Tools.Woot offers daily deals on tools & garden.

Tool Authority
Offers daily deals on tools.
More About Tooliday
Site Snapshot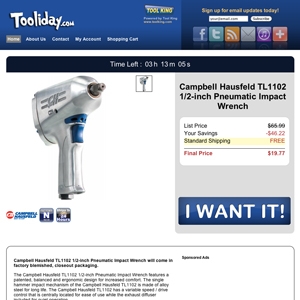 Loaction of Tooliday.com's One Hot Tool Deal Every Day page:
www.tooliday.com