Do you like nerdy things? Well, if the answer is yes, then what better place to shop than on Nerdyshirts.com? But who's to say that cool people don't shop there too? After all, the site has all kinds of t-shirts, hoodies, watches and accessories which have been designed with some of the coolest themes -- everything from movies, cartoons, video games, comic books and more.
Nerdyshirts.com currently ranks #189 amongst sites offering online deals -- Growing Tree Toys ranks #188. In the Apparel and Shoes category, NerdyShirts ranks at #18 -- DesignerShoes ranks #17.
Top 3 Sites Like NerdyShirts

EarlsTees
Offers custom t-shirts.

RIPT Apparel
Offers custom tees, hoodies and more. The designs sold are submitted to...

Teediculous
Offers custom t-shirts.
More About NerdyShirts
Site Snapshot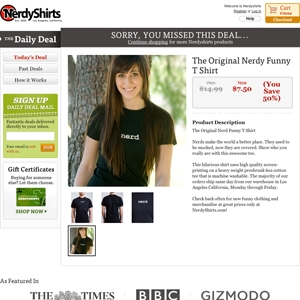 Loaction of Nerdyshirts.com's THE Daily Deal page:
www.nerdyshirts.com/dailydeal