Founded in 2007, Teediculous.com is a deal a day site that offers custom designed and in-house printed t-shirts. In addition to this, Teediculous states that they only use high quality made in the USA shirts.
Top 3 Sites Like Teediculous
Shirt.Woot
Offers a different shirt every day.

RIPT Apparel
Offers custom tees, hoodies and more. The designs sold are submitted to...

TeeFury
Offers daily deals on custom t-shirts. People/artists submit custom designs...
More About Teediculous
Site Snapshot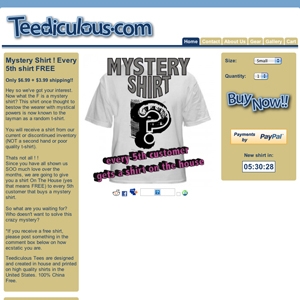 Loaction of Teediculous.com's Daily Deal page:
www.teediculous.com