Founded in 1997, DesignerShoes.com is on a mission to: "offer trendy, stylish and sophisticated women's shoes in narrow, medium, wide and extra wide, sizes 5 to 15, with a special emphasis on HARD TO FIND SIZES". The site offers many different shoes styles -- everything from boot, booties, flats, sandals, pumps, sport shoes and more -- at discounted prices.
Designershoes.com currently ranks #174 amongst sites offering online deals -- Get Ripped Nutrition ranks #173. In the Apparel and Shoes category, DesignerShoes ranks at #17 -- Birkenstock Express ranks #16.
Top 2 Sites Like DesignerShoes

Birkenstock Express
Offers footwear.

Joes New Balance Outlet
Offers New Balance footwear, apparel, accessories and sports equipment.
More About DesignerShoes
Site Snapshot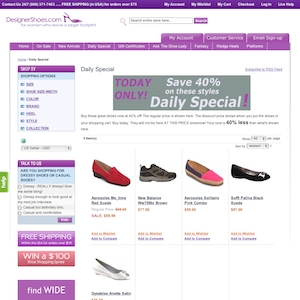 Loaction of Designershoes.com's Daily Special page:
www.designershoes.com/daily-special