Founded in 2009, Riptapparel.com offers custom t-shirts, hoodies, toddlers tees, posters, iPhone cases and more. The designs printed on the merchandise are submitted to Riptapparel by freelance artists and designers. Riptapparel decides on which designs to use. Chosen design goes on sale at a deeply discounted price for 24 hours. Once the 24 hours are up, a new design goes up for sale.
Riptapparel.com currently ranks #65 amongst sites offering online deals -- KidSteals ranks #64. In the Apparel and Shoes category, RIPT Apparel ranks at #9 -- BustedTees ranks #8. Amongst all deal a day sites, RIPT Apparel ranks #11 -- KidSteals ranks #10.
Top 3 Sites Like RIPT Apparel

RIPT Apparel
Offers custom tees, hoodies and more. The designs sold are submitted to...
Shirt.Woot
Offers a different shirt every day.

Shirtaday
Offers t-shirt deals.
More About RIPT Apparel
Site Snapshot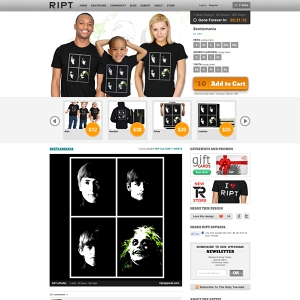 Loaction of Riptapparel.com's One a day page:
www.riptapparel.com