Growing Tree Toys is a family owned local specialty toy store in State College, PA which has been in business since 1973 and online since 2003. The company offers a wide selection of educational toys, puzzles, games and more for children of all ages. Additionally, the store also carries award winning toys, as well as eco-friendly toys.
Growingtreetoys.com/deal-of-the-day currently ranks #188 amongst sites offering online deals -- OnSale ranks #187. In the For Parents category, Growing Tree Toys ranks at #10 -- Genius Babies ranks #9.
Top 3 Sites Like Growing Tree Toys

Creativebrainsonline
Offers specials on children's specialty toys.

Genius Babies
Offers deals on a wide range of toys for newborns, babies, toddlers and...

Kids.Woot
Mainly offers deals in the toy category for kids of all ages.
More About Growing Tree Toys
Site Snapshot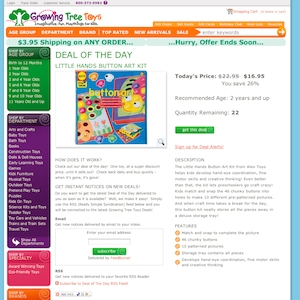 Loaction of Growingtreetoys.com/deal-of-the-day's Deal of the Day page:
www.growingtreetoys.com/deal-of-the-day