CyclocrossRacing.com was founded in 2010 by Mountain Plus Outdoor Gear which is a company that has been specializing in outdoor gear since 1995. CyclocrossRacing.com was actually apart of MPGear at one point and it was there just to help local cyclocross racers and employees get a hold of hard to find parts during the first few weeks of cross season, but when the sport exploded and manufacturers began making more cross specific products, MPGear setup a site dedicated just to those products -- and that site today is called CyclocrossRacing.com.
Note: MPGear also operates TinyTrekker which is a site dedicated to selling children's outdoor gear.
Cyclocrossracing.com currently ranks #233 amongst sites offering online deals -- Barking Deals ranks #232. In the Sporting Goods category, CyclocrossRacing.com ranks at #28 -- GearSlash ranks #27.
Top 3 Sites Like CyclocrossRacing.com

AEBike
Offers bicycle parts and accessories.

Chainlove
Offers cycling apparel, cycling equipment and more.

REI Outlet
Offers outdoor gear, apparel, equipment for camping, cycling, fitness and...
More About CyclocrossRacing.com
Site Snapshot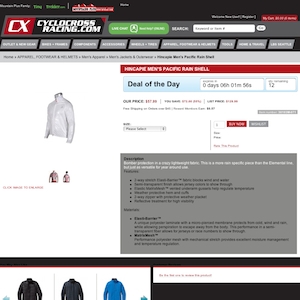 Loaction of Cyclocrossracing.com's Deal of the Day page:
www.mpgear.com/?page=deal_of_the_day