AEBike which stands for Alfred E. Bike was founded in 1972 as a local bicycle shop by Douglas Stevenson and Bernadine Baisch in downtown Kalamazoo, Michigan. As for Aebike.com, the site has been online since October 19th, 1999 and has been making it possible for people to purchase cycling and outdoor gear online since 2002.
Aebike.com currently ranks #198 amongst sites offering online deals -- StogieBoys ranks #197. In the Sporting Goods category, AEBike ranks at #24 -- Airgunsdaily ranks #23.
Top 2 Sites Like AEBike

Chainlove
Offers cycling apparel, cycling equipment and more.

CyclocrossRacing.com
Offers deals on cyclocross gear, bikes, frames, apparel and more.
More About AEBike
Site Snapshot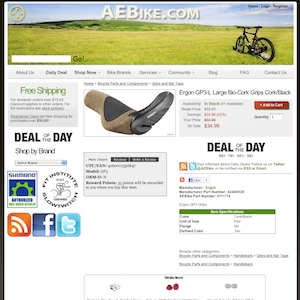 Loaction of Aebike.com's Daily Deal page:
Link listed on the homepage (on aebike.com)