Chainlove offers deals on cycling gear at intervals throughout the day. What type of cycling equipment? Well here is Chainlove's explanation: "Everything from spando-fab to North Shore-tough, at prices that'll make your shorts tight. We're talking completes, components, apparel, tools".
For those of you that aren't familiar with Chainlove, Backcountry.com owns the site and a few other outdoor gear sites including, but not limited to: Whiskey Militia and Steepandcheap.
Chainlove.com currently ranks #90 amongst sites offering online deals -- Family Video ranks #89. In the Sporting Goods category, Chainlove ranks at #11 -- SportsMemorabilia ranks #10. Amongst all deal a day sites, Chainlove ranks #13 -- 13 Deals ranks #12.
Top 3 Sites Like Chainlove

AEBike
Offers bicycle parts and accessories.

REI Outlet
Offers outdoor gear, apparel, equipment for camping, cycling, fitness and...

Sport.Woot
Offers daily deals on sports equipment.
More About Chainlove
Site Snapshot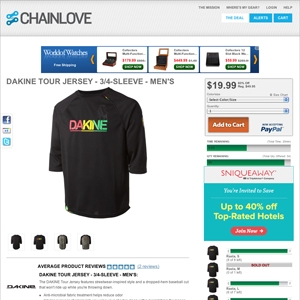 Loaction of Chainlove.com's One deal at a time page:
www.chainlove.com