TinyTrekker is owned and operated by Mountain Plus Outdoor Gear which has been in business since 1995 and was amongst the first to sell outdoor gear online. TinyTrekker, in many ways is like Mountains Plus, but for kids gear, bikes, camping equipment, strollers, toys and more.
In addition to TinyTrekker, MP Gear also owns CyclocrossRacing.com which offers daily deals on cyclocross gear, bikes, accessories and more.
Tinytrekker.com currently ranks #205 amongst sites offering online deals -- BlingDaily ranks #204. In the For Parents category, TinyTrekker ranks at #11 -- Growing Tree Toys ranks #10.
More About TinyTrekker
Site Snapshot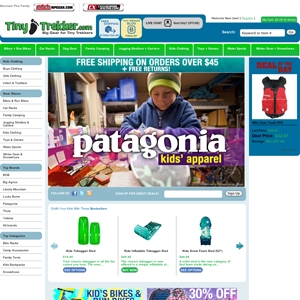 Loaction of Tinytrekker.com's Deal of the Day page:
Link listed on the homepage (on www.tinytrekker.com)