Enjoy snowboarding? Well, then you're in luck because GearSlash offers snowboarding gear at 50-90% off retail. Of course, since this is a deal a day site, you may not always find what you're looking for on any given day. Not to worry, though, because Gearslash.com gives you an opportunity to vote on the next deal. How exactly? Well, when you visit their homepage, you will see a column on your right with 4 deals (maybe more or less at times) and each deal has a vote button which you can click on to submit your vote -- and if that item receives enough votes, it's the next deal to go live.
Gearslash.com currently ranks #221 amongst sites offering online deals -- 98 Main ranks #220. In the Sporting Goods category, GearSlash ranks at #27 -- 98main.com again ranks slightly higher at #26. Amongst all deal a day sites, GearSlash ranks #64 -- 98 Main ranks #63.
Top 2 Sites Like GearSlash

EternalSnow
Offers items for snowboarders.

Usoutdoor
Offers sporting goods; specializes in men's and women's sportswear and...
More About GearSlash
Site Snapshot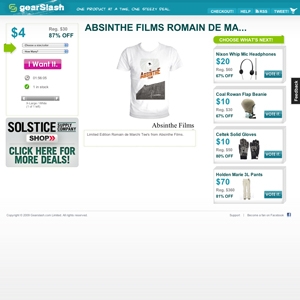 Loaction of Gearslash.com's One Product At A Time page:
www.gearslash.com