98main.com is a deal a day site that is operated by Peterglenn.com which specializes in outdoor gear. The site sells gear for everything from skiing, snowboarding, kayaking, camping, backpacking, wakeboarding and more. In addition to their online sales, Peter Glenn also operates quite a few retail locations and has been around since 1958.
98main.com currently ranks #220 amongst sites offering online deals -- Shirtaday ranks #219. In the Sporting Goods category, 98 Main ranks at #26 -- Bolt Athletics ranks #25. Amongst all deal a day sites, 98 Main ranks #63 -- Shirtaday ranks #62.
Top 3 Sites Like 98 Main

EternalSnow
Offers items for snowboarders.

GearSlash
Offers snowboarding gear.

Usoutdoor
Offers sporting goods; specializes in men's and women's sportswear and...
More About 98 Main
Site Snapshot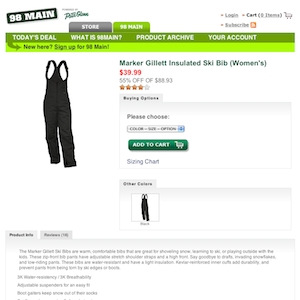 Loaction of 98main.com's Deal of the Day page:
www.98main.com