Anyone familiar with Woot already knows that their main site offers many deals on gadgets, but as Woot puts it: Tech.Woot is more like a "cyber-pedestal" for the tech deals they love. So if you love gadgets, this place was meant for you.
Tech.woot.com currently ranks #12 amongst sites offering online deals -- DX Offers ranks #11. In the Computers and Electronics category, Tech.Woot ranks at #2 -- Newegg ranks #1. Tech.Woot is considered the most popular deal a day site, ranking in at #1. As for the 2nd most popular site, it's Giveaway of the Day.
Top 3 Sites Like Tech.Woot

Thingfling
Offers deals on general merchandise -- things like cell phone accessories,...

TechForLess
Offers specials on refurbished electronics.

Newegg Shell Shocker
Offers many different computer and electronics deals. The exclusive shell...
More About Tech.Woot
Site Snapshot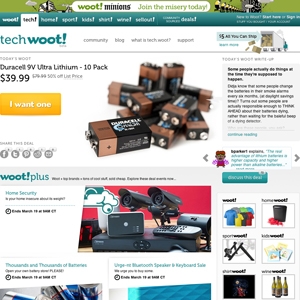 Loaction of Tech.woot.com's One Day One Deal page:
tech.woot.com