The Newegg Shell Shocker showcases Newegg's top deals which run at intervals throughout the day. I guess it's similar to how Amazon's lightning deals run or almost how Woot-Offs go off over at Tech.Woot. Either way, these deals are sure to amaze... No wonder they refer to them as shell shocker deals.
Newegg.com currently ranks #7 amongst sites offering online deals -- Home Depot ranks #6. In the Computers and Electronics category, Newegg Shell Shocker ranks at #1.
Top 3 Sites Like Newegg Shell Shocker

Amazon
Amazon.com offers numerous daily deals in a wide range of categories. You...

Tech.Woot
Offers daily deals on electronics.

DailySteals
DailySteals.com is a one deal a day site. You will mainly find electronics,...
More About Newegg Shell Shocker
Site Snapshot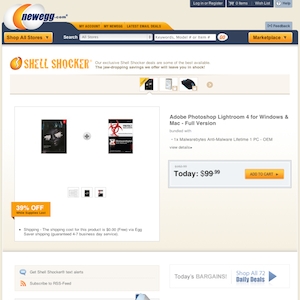 Loaction of Newegg.com's Shell Shocker Deal page:
www.newegg.com/Special/ShellShocker.aspx