As documented in The York Daily Record, Pfaltzgraff was founded in 1811 in York County, PA and is considered to be the oldest continually operating commercial pottery in the US. The Pfaltzgraff brand is also apart of Lifetime Brands, Inc. which is North America's leading resource for nationally branded kitchenware, tabletop, home décor and lifestyle products. In addition to Pfaltzgraff, Lifetime Brands also owns other popular brands such as Farberware, KitchenAid, Mikasa and many other leading home products brands.
Pfaltzgraff.com currently ranks #88 amongst sites offering online deals -- Aircraft Spruce ranks #87. In the Home and Garden category, Pfaltzgraff ranks at #7 -- MoreBeer ranks #6.
Top 2 Sites Like Pfaltzgraff

Ehappyhome
Offers products for the home; dinnerware, flatware, cookware and more.

Housewares Deals
Offers housewares. Find brands like Farberwar, KitchenAid, Cuisinart,...
More About Pfaltzgraff
Site Snapshot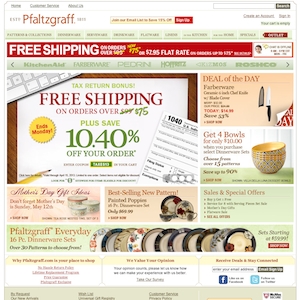 Loaction of Pfaltzgraff.com's DEAL of the Day page:
Link listed on the homepage (on www.pfaltzgraff.com)