Housewares Deals was founded in 2010 and devotes itself exclusively to selling housewares at up to 90% off retail prices. The site features brands like Farberware®, KitchenAid®, Cuisinart®, Pfaltzgraff®, Mikasa®, Hoffritz®, Nautica® and others.
Housewaresdeals.com currently ranks #165 amongst sites offering online deals -- Thingfling ranks #164. In the Home and Garden category, Housewares Deals ranks at #12 -- Mikasa ranks #11. Amongst all deal a day sites, Housewares Deals ranks #38 -- Thingfling ranks #37.
Top 2 Sites Like Housewares Deals

Ehappyhome
Offers products for the home; dinnerware, flatware, cookware and more.

Home.Woot
Offers things for the home.
More About Housewares Deals
Site Snapshot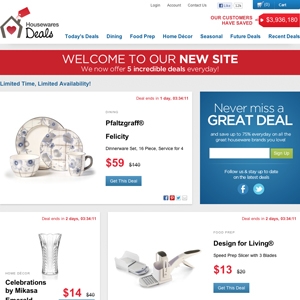 Loaction of Housewaresdeals.com's Today's Deal page:
www.housewaresdeals.com