MoreBeer.com has been offering home brewing equipment & supplies since 1995. In addition to beer brewing equipment and supplies, the site also offers other things such as coffee roasters and brewers, soda making supplies and more. The site also features how to articles and videos -- and the owners also operate morewinemaking.com, morecoffee.com and a few others.
Offline, the owners also operate retail stores called "MoreBeer! & MoreWine!" in California and they also stock the supplies that they sell on their website in their very own warehouse which is located in Concord, CA.
Morebeer.com currently ranks #72 amongst sites offering online deals -- Usoutdoor ranks #71. In the Home and Garden category, MoreBeer ranks at #6 -- Shindigz ranks #5.
More About MoreBeer
Site Snapshot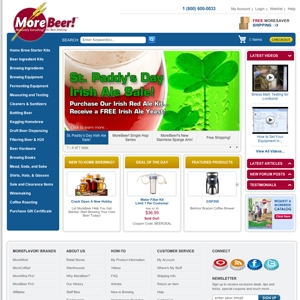 Loaction of Morebeer.com's Deal of The Day page:
Link listed on the homepage (on morebeer.com)