PacificGeek started doing business via the computer mail order business in 1978 and are located in Las Vegas, NV. The company specializes in providing computer-related excess inventory, manufacturer-closeouts, high-demand and hard to find-end of life computer components and peripherals. The PacificGeek "Nooner" offers one of these items at a highly discounted price for 1 day only.
Pacificgeek.com currently ranks #190 amongst sites offering online deals -- NerdyShirts ranks #189. In the Computers and Electronics category, PacificGeek ranks at #21 -- MacZot ranks #20.
Top 3 Sites Like PacificGeek

Newegg Shell Shocker
Offers many different computer and electronics deals. The exclusive shell...

TechForLess
Offers specials on refurbished electronics.

Electronics Expo
Offers daily deals on electronics.
More About PacificGeek
Site Snapshot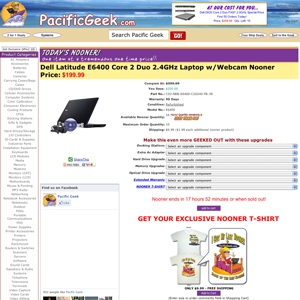 Loaction of Pacificgeek.com's TODAY'S NOONER! page:
www.pacificgeek.com/nooner.asp