Located in Rancho Cucamonga, CA and founded in 2002 by Jong Lee and Seok Hong, Monoprice.com specializes in selling cables, components and accessories for computer and consumer electronics.
Over the years the company has seen tremendous growth and has been named an Inc 500 company numerous times. Additionally, the company has had their products reviewed or mentioned by CNET, New York Times, CNN Money and others.
Monoprice.com currently ranks #27 amongst sites offering online deals -- Ideeli ranks #26. In the Computers and Electronics category, Monoprice ranks at #5 -- Giveaway of the Day ranks #4.
Top 2 Sites Like Monoprice

MCM Electronics
Offers computers and electronics; audio & video items, batteries, computers...

Bedeals
Offers daily deals on consumer electronics.
More About Monoprice
Site Snapshot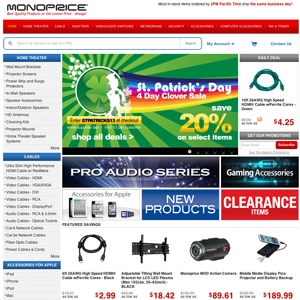 Loaction of Monoprice.com's Today's Deal page:
Link listed on the homepage (on www.monoprice.com)