Bedeals.com was founded in 2010 and is based out of Aventura, FL. The company offers two deals per day on consumer electronics that consist of routers, cell phones and accessories, TV's, laptops and more.
Bedeals.com currently ranks #195 amongst sites offering online deals -- BargainStation ranks #194. In the Computers and Electronics category, Bedeals ranks at #22 -- PacificGeek ranks #21. Amongst all deal a day sites, Bedeals ranks #51 -- Deals on the Fly ranks #50.
Top 2 Sites Like Bedeals

Monoprice
Offers daily deals on audio and video products; jacks, splitters, switches,...

Mobile.laalo
Offers daily deals on mobile devices and accessories.
More About Bedeals
Site Snapshot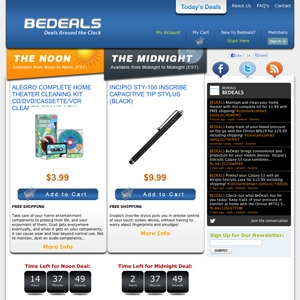 Loaction of Bedeals.com's Deals Around the Clock page:
www.bedeals.com