Mcmelectronics.com is a broad line distributor of electronic components, equipment and accessories for the consumer electronics industry. Their product line includes computer hardware and peripherals, security and surveillance, wire and cable, audio and video equipment, tools, test equipment and more.
MCM was founded in 1976 as an electronics service company in Dayton, Ohio and is a Premier Farnell Company.
Mcmelectronics.com currently ranks #70 amongst sites offering online deals -- Rock Bottom Golf ranks #69. In the Computers and Electronics category, MCM Electronics ranks at #13 -- Geeks ranks #12.
More About MCM Electronics
Site Snapshot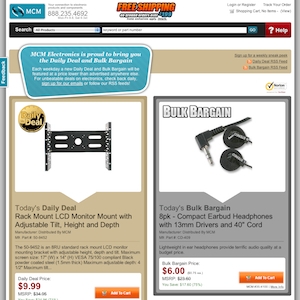 Loaction of Mcmelectronics.com's Daily Deal page:
www.mcmelectronics.com/content/en-US/dailydeal