Geeks was founded in 1996 and initially launched their website on the domain name CompGeeks.com, but in 1998 managed to acquire the domain names ComputerGeeks.com and Geeks.com. For a while the company promoted their site under the domain ComputerGeeks.com but eventually started promoting themselves as Geeks.com. Today it's the 'go to' place for tech bargains and the place that has the 'one day deal' that is eagerly anticipated by "tech-savvy" geeks everywhere.
Geeks.com currently ranks #67 amongst sites offering online deals -- Shindigz ranks #66. In the Computers and Electronics category, Geeks ranks at #12 -- Cowboom ranks #11.
Top 3 Sites Like Geeks

PacificGeek
Offers computer systems, laptops, computer parts and more.

Newegg Shell Shocker
Offers many different computer and electronics deals. The exclusive shell...

TechForLess
Offers specials on refurbished electronics.
More About Geeks
Site Snapshot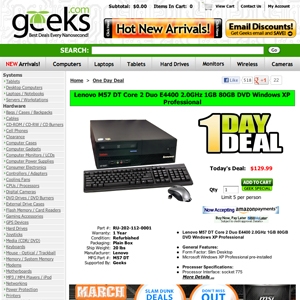 Loaction of Geeks.com's One Day Deal page:
www.geeks.com/one-day-deal