Who said getting your geek on had to be boring? Well, Laalo believes that deals should excite, thrill and have a cool factor to them. Don't believe me? See what Laalo has to say about it:
" Our deals will excite and thrill you and will always be on products that have a cool factor to them, what we like to call "the thrill". In essence, we sell products that you would actually want to buy rather than cheap generics."
So, you be the judge... and if you like what you see here, be sure to also check out Laalo's other deals at: Laalo (the main deal), Family.laalo and Mobile.laalo.
Geekout.laalo.com currently ranks #217 amongst sites offering online deals -- TigZoo ranks #216. In the General Merchandise category, Geekout.laalo ranks at #61 -- Tigzoo.com again ranks slightly higher at #60. Amongst all deal a day sites, Geekout.laalo ranks #61 -- TigZoo ranks #60.
Top 3 Sites Like Geekout.laalo

Tech.Woot
Offers daily deals on electronics.

Newegg Shell Shocker
Offers many different computer and electronics deals. The exclusive shell...

Thingfling
Offers deals on general merchandise -- things like cell phone accessories,...
More About Geekout.laalo
Site Snapshot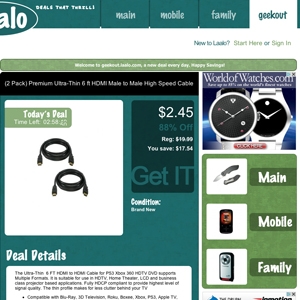 Loaction of Geekout.laalo.com's Daily Deal page:
geekout.laalo.com