Whiskey Militia is a one deal at a time (ODAT) site that offers outdoor gear. The site is actually owned by Backcountry.com which has been online since 1996 and are very well known for selling rock climbing, hiking, trekking, trail running, kayaking, skiing, snowboarding, snowshoeing and cycling gear. In addition to Whiskey Militia, Backcountry.com also owns a few other sites including, but not limited to: Chainlove and Steepandcheap. So if you are looking for deals on gear, one of these sites should have something for you especially since the deals are being run at intervals throughout the day.
Whiskeymilitia.com currently ranks #63 amongst sites offering online deals -- Apress ranks #62. In the Sporting Goods category, Whiskey Militia ranks at #7 -- Steepandcheap ranks #6. Amongst all deal a day sites, Whiskey Militia ranks #9 -- Yugster ranks #8.
Top 3 Sites Like Whiskey Militia

Usoutdoor
Offers sporting goods; specializes in men's and women's sportswear and...

REI Outlet
Offers outdoor gear, apparel, equipment for camping, cycling, fitness and...

Altrec Outlet
Outlet.altrec.com offers daily deals on outdoor apparel.
More About Whiskey Militia
Site Snapshot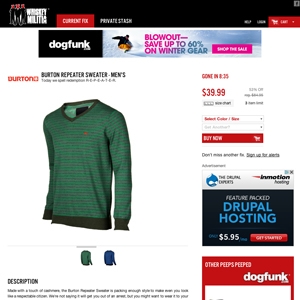 Loaction of Whiskeymilitia.com's One Deal At A Time page:
www.whiskeymilitia.com