Steep and cheap was launched in 2006 and is located in Salt Lake City, Utah. The site mainly focuses on selling ski gear one deal at a time. In other words, they put one deal up for a limited amount of time -- say 10 minutes -- then when the time runs out or if the deal sells out, they put up another deal and so on. The site is owned by Backcountry.com which has been selling outdoor gear since 1996. In addition to Steep and cheap, Backcountry.com also owns Chainlove and Whiskey Militia.
Steepandcheap.com currently ranks #55 amongst sites offering online deals -- Cowboom ranks #54. In the Sporting Goods category, Steepandcheap ranks at #6 -- Performance Bike ranks #5. Amongst all deal a day sites, Steepandcheap ranks #7 -- Bitsdujour ranks #6.
Top 3 Sites Like Steepandcheap

Usoutdoor
Offers sporting goods; specializes in men's and women's sportswear and...

REI Outlet
Offers outdoor gear, apparel, equipment for camping, cycling, fitness and...

Altrec Outlet
Outlet.altrec.com offers daily deals on outdoor apparel.
More About Steepandcheap
Site Snapshot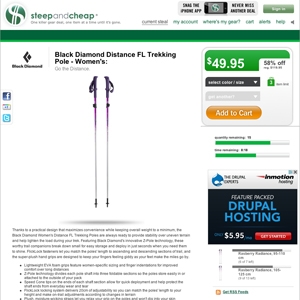 Loaction of Steepandcheap.com's One killer gear deal page:
www.steepandcheap.com