Thegolfstoreonline.com has been online since 2006 and offers a wide variety of golf items such as golf balls, bags, GPS devices, DVDs, novelties and more.
Thegolfstoreonline.com currently ranks #163 amongst sites offering online deals -- Orbitnutrition ranks #162. In the Sporting Goods category, The Golf Store Online ranks at #20 -- Deal a Day Golf ranks #19.
Top 3 Sites Like The Golf Store Online

Rock Bottom Golf
Offers specials on a wide range of golf products.

Golfsmith
Offers golf clubs, shoes, apparel, rangefinders, balls, bags and more.

Deal a Day Golf
Offers daily deals on golfing equipment.
More About The Golf Store Online
Site Snapshot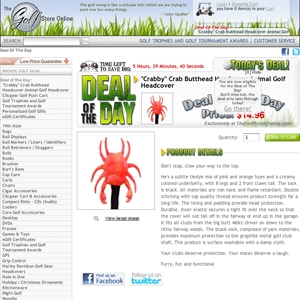 Loaction of Thegolfstoreonline.com's Deal of the Day page:
www.thegolfstoreonline.com/t-dealoftheday.aspx