Based out of Spokane, WA, Orbitnutrition.com offers bodybuilding supplements at discounted prices. With over 1000 sports nutrition products being offered, the site has everything from prohormones, pre-workout supplements, fat burners, protein, energy drinks, vitamin, minerals and more.
Orbitnutrition.com currently ranks #162 amongst sites offering online deals -- Joolwe ranks #161. In the Supplements category, Orbitnutrition ranks at #5 -- Lockout Supplements ranks #4.
Top 3 Sites Like Orbitnutrition

Tiger Fitness
Offers nutritional supplements.

ProSource
Offers bodybuilding & sports supplements, weight Loss products, protein...

Get Ripped Nutrition
Offers specials on major supplement brands.
More About Orbitnutrition
Site Snapshot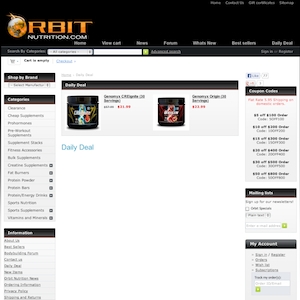 Loaction of Orbitnutrition.com's Daily Deal page:
www.orbitnutrition.com/cart/daily-deal.html