The company behind Prosource.net have been in business since 1996 not only selling bodybuilding supplements but also researching and developing them. So if you are familiar with the ProSource brand, this is where you can buy the product directly from the manufacture, but in addition to their own brand, the site also sells brands such as BioQuest, Champion Nutrition, Dymatize, MusclePharm, ProLab and more.
Prosource.net currently ranks #102 amongst sites offering online deals -- TechForLess ranks #101. In the Supplements category, ProSource ranks at #3 -- Tiger Fitness ranks #2.
Top 3 Sites Like ProSource

Muscle and Strength
Muscleandstrength.co m is a huge muscle building site that offers deal of...

Tiger Fitness
Offers nutritional supplements.
Orbitnutrition
Offers bodybuilding supplements.
More About ProSource
Site Snapshot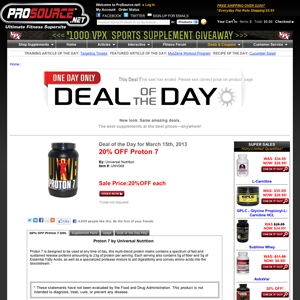 Loaction of Prosource.net's Deal of the Day page:
www.prosource.net/content/articles/Deal-of-the-Day