Founded on November 21st, 2008 and located in Richardson, TX, Joolwe.com offers a wide selection of metals and gemstones jewelry. With everything from necklaces & pendants, bracelets, earrings, rings and designer collections. In addition to offering a wide selection of jewelry, Joolwe also says that they look to: "offer our customers fascinating pieces at outstanding prices, while maintaining our reputation for excellent customer care".
Joolwe.com currently ranks #161 amongst sites offering online deals -- Flyin Miata ranks #160. In the Jewelry and Watches category, Joolwe ranks at #11 -- End of Retail ranks #10.
Top 3 Sites Like Joolwe

SuperJeweler
Expect to find ring, necklaces, bracelets and more. Please also see...

Szul
Offers deals on a wide selection of jewelry, watches and accessories.

CloseoutMania
Offers specials on jewelry.
More About Joolwe
Site Snapshot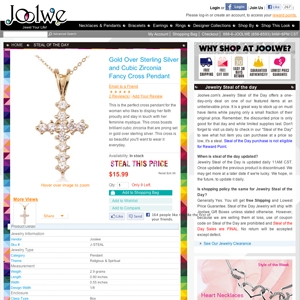 Loaction of Joolwe.com's Steal of the Day page:
www.joolwe.com/steal-of-the-day.html