Szul Jewelry Inc. was founded in 1999 and was amongst the first online jewelers to offer a wide selection of diamonds, gemstones and pearl jewelry. Szul is also located at the heart of Manhattan's Diamond District which gives them access to some of the best resources in the jewelry industry -- and since the company manufactures a majority of their own jewelry, they are able to offer some of the best prices.
Szul.com currently ranks #105 amongst sites offering online deals -- Taylor Gifts ranks #104. In the Jewelry and Watches category, Szul ranks at #8 -- SuperJeweler Clearance ranks #7.
Top 3 Sites Like Szul

Joolwe
Offers jewelry deals.

SuperJeweler
Expect to find ring, necklaces, bracelets and more. Please also see...

End of Retail
Endofretail.com (AKA Inspiredsilver.com) offers a large variety of jewelry...
More About Szul
Site Snapshot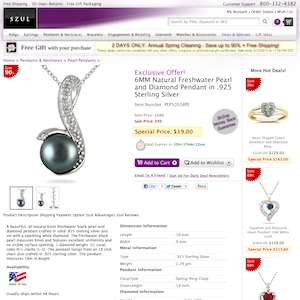 Loaction of Szul.com's Deal of the Day page:
www.szul.com/szd