Founded in 2011, and formerly known as Inspiredsilver.com, Endofretail.com is a daily deal website that offers jewelry and watches at up to 98% off retail. The owners of the site have mentioned that they are planning to expand their offering across other categories such as tools and beauty.
Endofretail.com currently ranks #145 amongst sites offering online deals -- 1 Sale A Day ranks #144. In the Jewelry and Watches category, End of Retail ranks at #10 -- Gemnation ranks #9. Amongst all deal a day sites, End of Retail ranks #29 -- 1 Sale A Day ranks #28.
Top 3 Sites Like End of Retail

Joolwe
Offers jewelry deals.

My1DayDeal
Offers deals on jewelry.

Szul
Offers deals on a wide selection of jewelry, watches and accessories.
More About End of Retail
Site Snapshot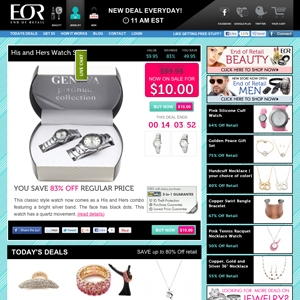 Loaction of Endofretail.com's TODAYS DEAL page:
www.endofretail.com