In 2007, the owners of Deal a Day Golf had a warehouse full of golf gear and were trying to figure out how to liquidate the merchandise. It then struck them, that a deal a day site dedicated to golf gear may very well be the answer... As a result, Dealadaygolf.com was born. Today people visit their site every day to check out their deals which range from 50-75% off on stock apparel, sunglasses, training aids, golf sets and hundreds of other products. So if you are looking for golf gear, be sure to check them out as well.
Dealadaygolf.com currently ranks #154 amongst sites offering online deals -- DIVOT ranks #153. In the Sporting Goods category, Deal a Day Golf ranks at #19 -- Divot.com again ranks slightly higher at #18. Amongst all deal a day sites, Deal a Day Golf ranks #34 -- DIVOT ranks #33.
Top 3 Sites Like Deal a Day Golf

1DaySports
Offers golf products.

DIVOT
Offers specials on golf products.

Golfsmith
Offers golf clubs, shoes, apparel, rangefinders, balls, bags and more.
More About Deal a Day Golf
Site Snapshot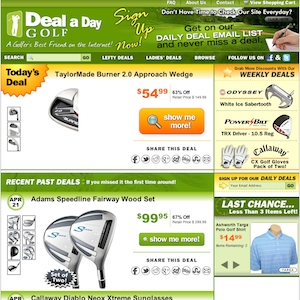 Loaction of Dealadaygolf.com's The Golfer's Deal A Day page:
dealadaygolf.com