Founded in 2010, Divot.com is owned and operated by Global Value Commerce, Inc. which operates popular golf stores such as GlobalGolf.com, Shop.GOLF.com and more. DIVOT, similar to the other sites, does sell golf products but unlike the others, the site is a bit unique since it only offers one golf deal per day at a deeply discounted price. What type of deals exactly? Well, they vary but typically consist of clubs, bags, clothing, balls and more -- from major brands such as TaylorMade, Nike, Adidas and others.
Divot.com currently ranks #153 amongst sites offering online deals -- Cigar Monster ranks #152. In the Sporting Goods category, DIVOT ranks at #18 -- EternalSnow ranks #17. Amongst all deal a day sites, DIVOT ranks #33 -- Cigar Monster ranks #32.
Top 3 Sites Like DIVOT

1DaySports
Offers golf products.

Deal a Day Golf
Offers daily deals on golfing equipment.

Golfsmith
Offers golf clubs, shoes, apparel, rangefinders, balls, bags and more.
More About DIVOT
Site Snapshot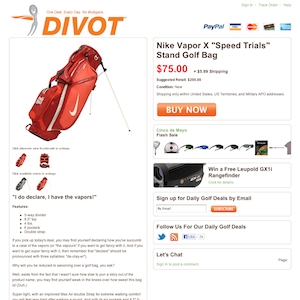 Loaction of Divot.com's One Deal. Every Day. page:
www.divot.com