Anothersmokindeal.com is owned and operated by Boardersmall.com which was founded in 2005 and also operates Boarders Best Buy. All of the sites specialize in wakeboarding and snowboarding gear.
Top 3 Sites Like Another Smokin Deal

Deal A Day Wake
Offers wakeboarding gear.

EternalSnow
Offers items for snowboarders.

GearSlash
Offers snowboarding gear.
More About Another Smokin Deal
Site Snapshot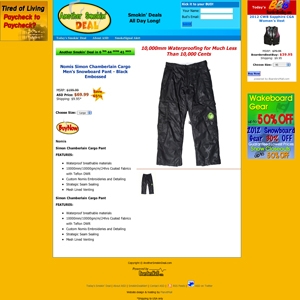 Loaction of Anothersmokindeal.com's Today's Smokin' Deal page:
www.anothersmokindeal.com