Owned an operated by Boardersmall.com which is known for offering a wide selection of snowboarding and wakeboarding gear, Boardersbestbuy.com is a one deal at a time site where BoardersMall offers specially selected items at discounted prices.
Also note that in addition to Boardersbestbuy.com, Another Smokin Deal is also affiliated with BoardersMall.
Boardersbestbuy.com currently ranks #278 amongst sites offering online deals -- TheDeallio ranks #277. In the Sporting Goods category, Boarders Best Buy ranks at #31 -- 1DaySports ranks #30. Amongst all deal a day sites, Boarders Best Buy ranks #103 -- TheDeallio ranks #102.
Top 3 Sites Like Boarders Best Buy

Deal A Day Wake
Offers wakeboarding gear.

EternalSnow
Offers items for snowboarders.

GearSlash
Offers snowboarding gear.
More About Boarders Best Buy
Site Snapshot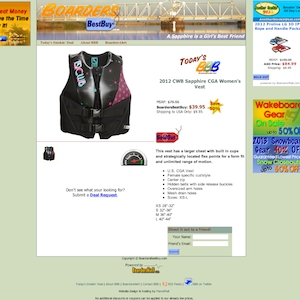 Loaction of Boardersbestbuy.com's One Smokin' Deal at a Time page:
boardersbestbuy.com